Progeny Test
Elite young bulls
Fantastic prices
Free use of SireMatch
What does Progeny Test offer
By taking part in CRV's progeny test programme you can develop and enhance your herd using tomorrow's elite genetics today.
New Zealand dairy farmers have been working with CRV for over 30 years to develop generations of daughter proven sires. The elite Holstein Friesian, Crossbred and Jersey bull calves selected for CRV's progeny test programme ultimately ensure dairy farmers' herds are competitive and continue to be more productive and more profitable in the future.
The Progeny Test programme runs for four years, from mating to the daughter entering the milking herd as a two-year old heifer.
CRV invites you to be part of a select group of farmers who are helping develop the next generation of elite dairy sires.
BENEFITS:

Jump the queue, get the genetic gain earlier
Free use of SireMatch for insight into your herd
Elite young bulls at a fantastic price
World-class genomic selection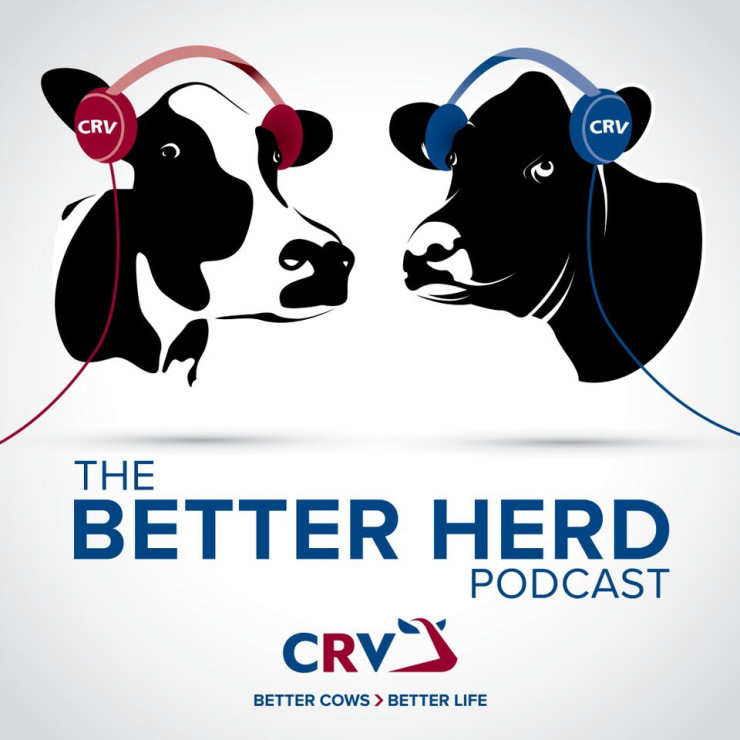 Podcast: Progeny Testing
Sheryl Haitana chats with our PT programme manager, Janine Broekhuizen and breeding programme manager Aaron Parker. Listen to find out what's involved with being a PT farmer and if our programme is right for you.
Listen now
How does it work?
The Progeny Test programme begins with mating through to the daughter completing her first lactation as a two-year old heifer. It's a long term commitment – it will be nearly four years between buying the straw and finishing the contract, and there are some great rewards.

To protect the integrity and credibility of CRV's Progeny Test programme, there is set criteria you must follow to meet the contract obligations.
"I like cows that are lovely to milk with easy temperament and a great udder conformation."
Aleisha and Chris McCormack
Requirements to Progeny Test
To protect the integrity and credibility of CRV's progeny test programme, there is a set criteria to be eligible. We can assess if your herd is eligible based on information you provide about your herd and farm management system.

HERD RECORDING
All progeny test farmers must herd record using myHERD, CRV Insight or Minda to get data into the national dairy core database.
HERD TESTING
You must herd test four times per year from year four onwards (once the two-year-olds enter the milking herd) on an a.m/p.m method. This provides CRV with the daughter testing information required to validate the performance of the young bulls and assess if their merit is high enough to graduate and be marketed in the sires catalogue.
CALVING AND MATING
All matings must take place in Spring for data collection and evaluation purposes.
You must also mate a minimum of 60-90% of your herd to our progeny test bulls (dependent on herd size)
Bring in 20% of your milking herd as two-year-old replacements
DATA COLLECTION
CRV contracts to JerseyNZ and the New Zealand Holstein Friesian Association to collect traits other than production (TOP) information. Farmers are required to draft two-year-old heifers out of the milking herd for TOP inspection, a one-off event that is arranged by the breeding association. In addition, farmers are required to score heifers for milking-related traits as they calve down.
Rewards available
IT'S EASY

A package of Progeny Test bulls is selected for you with more certainty than ever before. There is flexibility to nominate a percentage of your herd with proven bulls of your choice.
Choice of Jersey, Friesian and Crossbred
IT'S GREAT VALUE
Progeny Test young bulls are a fantastic, unbeatable price
Free use of SireMatch, a powerful breeding support report, for more information and insight into the genetic performance and capabilities of your herd.
IT'S REWARDING
Financial rebate per milking heifer
Extra information on your animals, for example weights and T.O.P scores, is provided to you free of charge
Opportunity for your best heifers to be featured in our Dairy Sires Catalogue
Jump the queue, get the genetic gain earlier. By the time farmers can purchase proven genetics for the latest bull, you are already milking the benefits.
THEY'RE GOOD BULLS
Our genomic selection methods are world-class and world proven. We combine CRV's global resources, expertise and world leading technology with our own local knowledge and experience. This allows us to source, test and select the very best genetics for NZ systems. This all means, progeny test farmers get better genetics with more certainty than ever before.
CRV typically has over 100 bulls, Jersey, Friesian and Crossbred each year awaiting their daughter proofs. Some of these bulls are available in CRV's catalogue as "InSires".
A Progeny Test young bull is genomically selected, demonstrating a high level of promise and genetic merit through their ancestry, DNA information and inspection of their dam.
Start with CRV's Progeny Test now!
Are you interested in being a part of the Progeny Test or would like to know more? Fill out the form below and we'll put you in touch with your local CRV Field Consultant.
Get in touch