myDNA Testing
Make better breeding decisions
Predict future performance
Prevent mismothering
Increase the value of your herd data
DNA testing your herd has many benefits, such as the correct mothering of young stock, and the development of more accurate herd records.
As we move further into the world of genomics, farmers will be able to receive genomic breeding values for their herd.
To assist this, CRV offers a future proofed DNA service, in conjunction with AgResearch laboratory GenomNZ. All samples are analysed on a 50K high density chip, which means not only are your results extremely accurate and detailed, it also enables the generation of genomic breeding values without any further investment required.
Ready your herd for the world of genomics without any further investment required.
Test once to identify:
Parentage
Polled
A2
BVD
Genomic breeding values
Get started with myDNA
Getting started with myDNA is easy. DNA test your whole herd at the same time, or build up the DNA profile of your herd over time.
Steps to get started with myDNA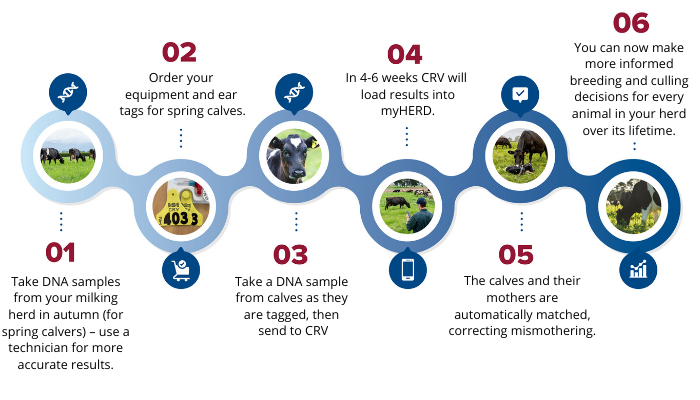 myDNA Testing Options
Interest free finance plan options available for whole herd customers over 12 and 18 months (lab fees only, does not include equipment or technician fees).
myDNA Technician Service
We recommend using one our DNA technicians, however you can also hire equipment for DNA sampling.
Standalone A2 Testing
Want to know the Beta Casein Status of your young stock without the expense of a DNA test? Simply order the number of standalone A2 tests you require with your CRV Sales Consultant, take the swabs as below, and we will email you the results within 5 days of the lab receiving the samples.
Reasons to DNA test with CRV
CRV exclusively offers polled testing. Use myDNA in conjunction with CRV polled bulls to avoid the need for disbudding.
25% of all animals are mis-mothered even on small farms. Correct parentage to prevent inbreeding.
Genomics increases the reliability of predictions. Parent averages are only 30% reliable prior to lactation. Adding genomic information increases this reliability to 55%.
Be certain you are keeping your best animals with our parentage verification and genomic breeding value testing.
Figure 1: This illustrates how easy it is for a calf to be assigned to the wrong dam. Research shows that greater than 25% of calves in NZ are mismothered. The flow on will mean not only the wrong dam is assigned to both calf A and B, but also the wrong sire. This will heavily influence the lifetime genetic predictions of those progeny, meaning you may inadvertently cull your highest indexing progeny and keep your lowest. By having the incorrect sire and dam assigned it also means they could be mated to their true sire, or a related sire causing inbreeding, which makes your herd less productive.
myDNA Genomics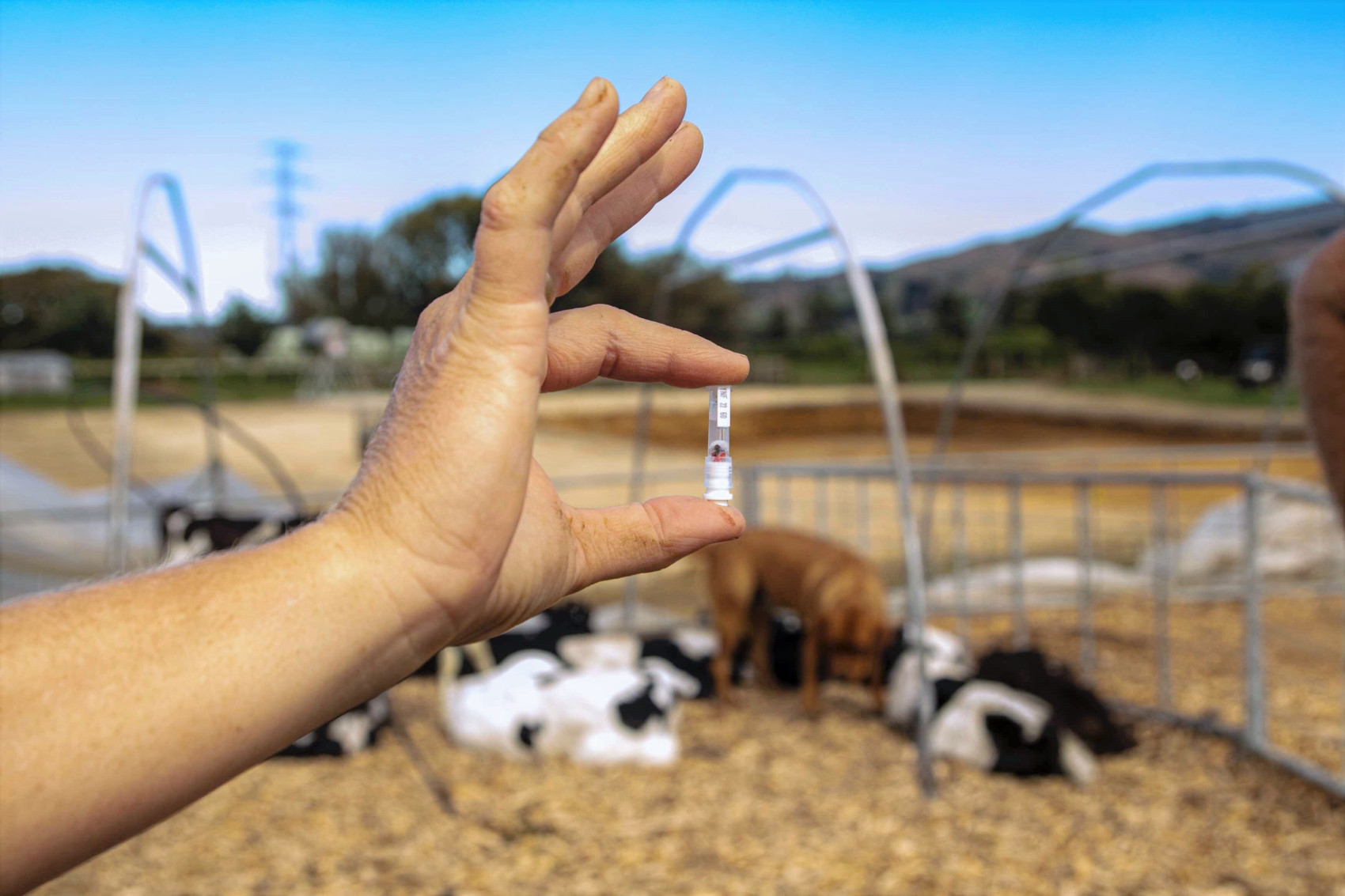 In 2022 CRV introduced its myDNA genomics' service to help you better predict the future performance of your herd.
Including genomic information increases the reliability and accuracy of your animal's breeding values. The traits animals inherit from their parents is random making the outcome difficult to predict. Include genomic information in your animals' breeding values to increase the reliability by 25%.
Raise the best replacements and make more informed decisions by identifying predictors relating to health and efficiency before calves enter the herd. No need to wait two years for production information.
The myDNA genomic service will analyse DNA and incorporate this information into its breeding value calculations.
For just $25 upgrade animals that already have a profile with CRV, without the need for further testing.
If you want to maximize the benefits from myDNA, now is the time to act. Take the guess work out of farming.
Sign up for myDNA and win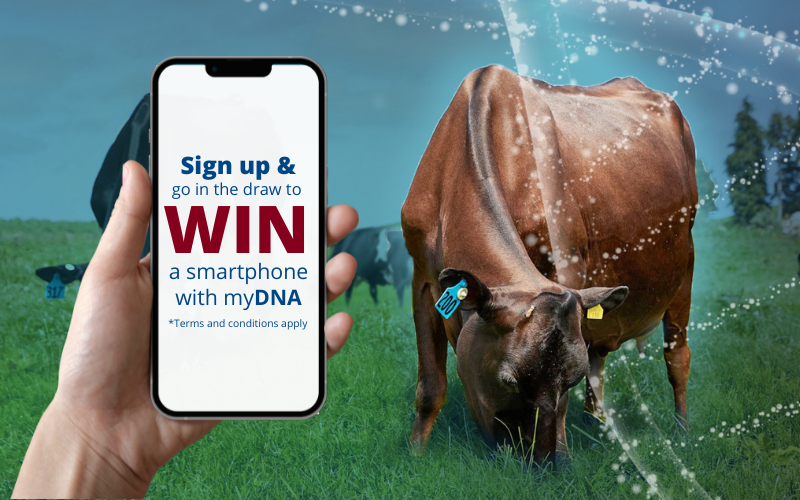 Sign up for myDNA before July and go into the draw to win a smartphone.
Contact your local sales consultant today about myDNA
Complete the myDNA registration process
You're now in the draw.
See terms and conditions for more information.
Interested in DNA Testing your herd?
Interested in DNA Testing your herd? Fill out the form below and we'll put you in touch with your local CRV Sales Consultant.
Get in touch