Sexed Semen
Further your genetic gain
Increase value of surplus calves
Use on your best cows
Sexed Semen
Use CRV's sexed semen to lift herd performance and get replacement heifers from your best cows.

Reasons to use frozen sexed semen from CRV include:
Each pregnancy from sexed semen gives a 90% chance of a heifer.
Sexed semen is available from CRV's highest indexing bulls, recognising that farmers want quality replacements from their best cows.
You'll have more control. Get exactly the sire you order and manage their mating allocation on the day.
The use of sexed semen continues to grow in New Zealand with CRV continually investing in technology to give farmers access to what they need, when they need it.
Ian Hopping's herd fertility is a top priority
"The key reasons I chose sexed semen was for faster genetic gain, easier calving and early replacements".
Ian Hopping, Dairy Farmer Canterbury
Ian's Experience with CRV Sexed Semen
Many farmers are also using sexed semen to strategically improve herd replacements, and then mate the remainder of their herd with dairy-beef genetics.
Mount Maunganui based farm owner Ian Hopping invested in sexed semen for the first time last season. He chose it as an easy calving option for his heifers that would help ensure replacements from his genetically best animals. After an unexpectedly high conception rate, he is thrilled with his return on investment.
Ian owns two converted dairy farms in Canterbury and lower order sharemilkers manage 1000 cows on each property, milking twice a day. The predominantly Friesian herds average 550kgsMS per cow.
"We wanted high quality Friesian calves from our Friesian yearling heifers which have some of our best genetics," says Ian.
"In the past, if we had calving difficulty with a heifer, 90% of the time she would have a bull calf. So, we took bull calves out of the equation by going to sexed semen.
"Calving of our heifers this Spring has gone really well, with approximately 400 heifer calves born in July and 10% bulls, which we expected. Until we get DNA results back, I can't confirm how many heifer calves resulted from the sexed semen, but looking in the calf sheds, we are more than happy with the result."
Ian says using sexed semen also allowed him to get enough replacements early and mate a larger percentage of his milking herd with short gestation Belgian Blue, to help condense his calving.
The milking herds are mated to CRV conventional Friesian straws for 4 weeks and the Belgian Blue for 5 weeks. Ian says the Belgian Blue had proven to be easy calving and the calf rearers loved them.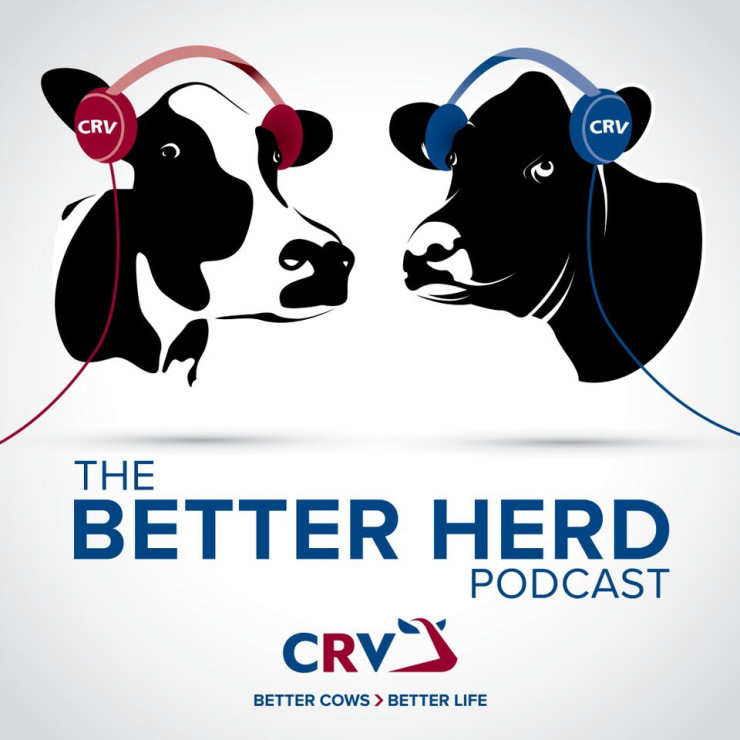 Podcast: Driving Genetic Gains Using Sexed Semen
Rosanna talks about the ins and outs of sexed semen with Marleen Broekhuijse from CRV HQ in The Netherlands and Canterbury dairy farmer Ian Hopping.
Listen now
Frequently asked questions
How is the sexed semen produced?
CRV sexed semen goes through a sorting process where more than 90% of the sperm cells in the straw carry the female 'X' chromosome and only less than 10% of the sperm carry the male 'Y' chromosome*. This ratio carries through to produce on average 90% heifers from the doses of sexed semen used on the farm.
What are the recommendations for pre-mating if I plan on using frozen sexed semen?
Pre-mating management will be similar to conventional semen. To get the best possible results:
Ensure cows are in good condition from calving to mating.
Make sure all staff are up to scratch with identifying cows on heat and your farms heat detection process.
Record pre-mating heats so you are utilising sexed semen on cows that have cycled prior.
Utilise CRV ESTROTECT heat detectors to help you and staff identify cows correctly on heat.
Breed cows at the right time, when a cow first shows signs of estrus it is still too soon for her to be inseminated for optimal conception rates. The optimum time to inseminate is 18-22 hours after first signs of standing heat.
If you question if the cow is really on heat, put her to conventional semen.
We do not recommend using sexed semen in any synchrony programme.
Should sexed semen be handled differently?
Our AI technicians are trained on handling sexed semen. If you are a DIY inseminator, make sure you've had your AI technique reviewed in the past three years.
For more information check the guide here.
What about conception rate of sexed semen?
While there is a slight reduction in cow conception rates when compared to conventional semen products sexed semen is a great option.
Each pregnancy from sexed semen gives farmers a 90% chance of a heifer calf. This means getting replacements from elite cows, building herd numbers, or creating value through excess heifer sales is a real option to drive herd improvement progress and profitability.
Conception rates with sexed semen can be around 10-15% lower than non-sexed semen but the genetic gains you get when you're mating them with your top heifers make it a worthwhile investment.
Interested in using CRV Sexed Semen?
Fill out the form below and we'll put you in touch with your local field consultant.
Get in touch